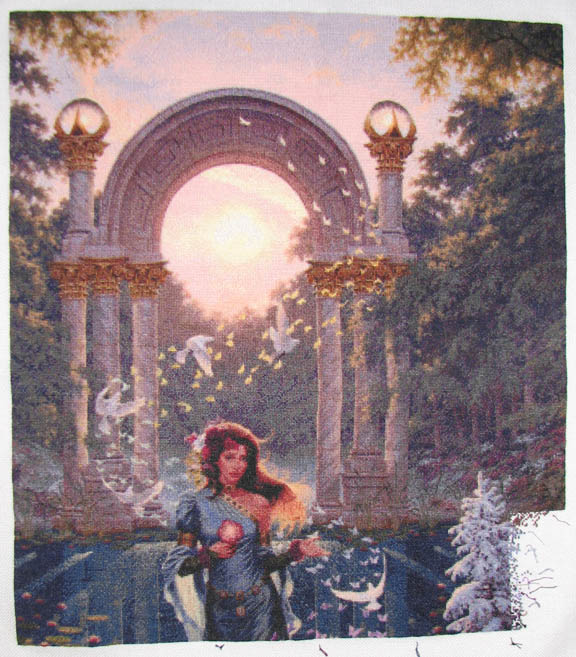 Here's the latest page. The snow-covered tree looks really neat. I wish you could see the detail. I've started taking pics with my digital camera because it's just gotten so big. I'm 68% done so far. Lots more to go.
I still need to start on my Garden Exchange piece, but I might finish up My Stitching Treasures first. And then maybe a new HAED start, which would probably be Pearl Princess. I can't really decide--there's so much to choose from.
Baby:
I went to the doctor Wednesday. Everything sounds fine. I had some blood tests done but haven't gotten the results yet. It really hurts when the doctor tries to hear the heartbeat with a machine he pushes against my gut. He then gives up and uses the ultrasound--duh! I also found out that Matt's crappy insurance doesn't want to pay for the second ultrasound or my Nexium. Grr! I think we're going to have to switch to my insurance in September. Other than that, I'm having some nausea, headaches, and muscle pains in my abdomen. And some general depression for no apparent reason. Hormones--how lovely.
Roses:
Barbara asked if my roses smelled good. Well, the pregnancy has caused me some congestion, but from what I remember, they do have a nice smell though it's not very strong.