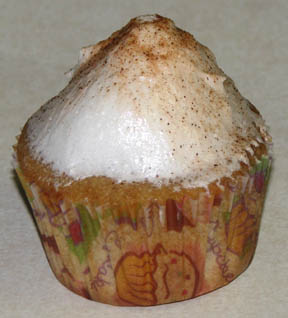 My mom bought Martha Stewart's cupcake book, so of course I had to try one out. I made the snickerdoodle cupcake earlier in the week. It's a cinnamon cake with meringue frosting and a sprinkle of cinnamon on top.

So I have discovered that snickerdoodles have nothing to do with Snickers and that the cookies by the same name must be rather lackluster. These cupcakes were OK but nothing to write home about.

And the best part about my experiments is that my mom takes all but a handful to work with her so we don't have to add on the pounds (we do just fine with that on our own)!

Next week I hope to try the mint-filled brownie cupcake. These things aren't quick to whip up either--I usually spend an entire evening on these, just like making a cake. Sheesh.