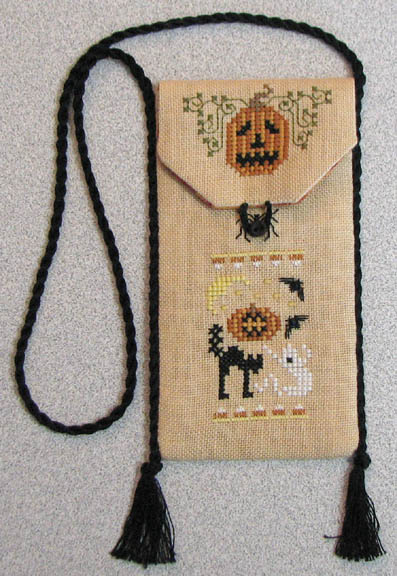 I've almost completed the finishing of Boo Scissor Purse (
more pics
). I'm missing some pearl cotton for the closure, so I had to order some. (And while I was ordering, I got the materials for the Sweetheart Tree needlerolls--I couldn't take it anymore! Shop--buy--spend!).
I finished the stitching of the companion piece, Boo Scissor Keeper, last night. I'll turn it into a fob in the next few days.
I received this chart off my wishlist from Carol during an exchange. Thanks again, Carol! I just love Halloween pieces.

I'm going to start working on a freebie from Jeannette Douglas as soon as I get the supplies squared away. And Maggie the Messmaker's on the to-do list at some point too.
Holiday:
We had a quiet Fourth of July (other than the illegal fireworks our neighbors shot in the very dry subdivision--not that I'm bitter). Matt grilled for us, which is always great. I took a break from making cakes, which was surprisingly hard. I have my first class next week. I'm both excited and nervous.