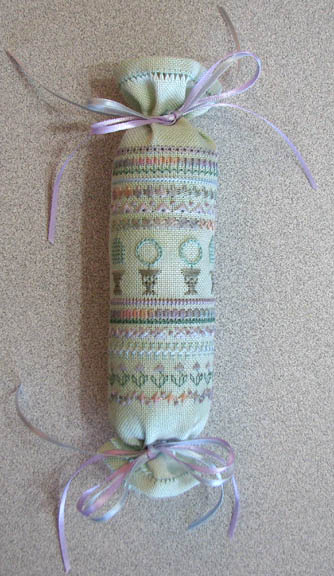 Lots to talk about! On the stitching front, I finished up Mini Topiary 6 into a needleroll yesterday. I also received my goodies from
Threadneedle Street
yesterday, so this morning I fixed up the closure for my
Boo Scissor Purse
. I can also start working on my Sweetheart Tree needlerolls again! I'm missing a few of the heart charms, but I have enough to keep me busy for a while.
Cake: I took my first class Thursday night, Wilton Class 1. I didn't learn much that I didn't already know, but I was glad that I was prepared. We decorated our own cakes. Everyone finished before me, but I did a better job than most of them. Some cakes really looked bad. Mine doesn't look perfect, but it's pretty good. So, we iced our own cakes (but didn't have time to let them crust and smooth them), outlined, filled in stars, and did the border. The week after next is part two.

I had another class this morning, this time on baking. I learned some good recipes and techniques. Again, I was glad that I had some knowledge to work with. We got to sample a few cakes--yum! I'll need to try them out. I also got to browse the cake store. It was just as thrilling as going to an LNS for the first time!