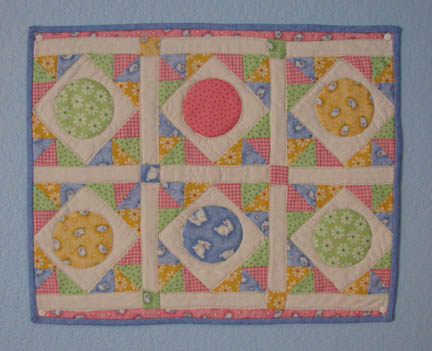 Judith
sent me this lovely baby quilt! What a delightful surprise! I just love the colors and the little bunnies and sheep. I was so touched by this generous gift. I can't sew worth a darn, so I really appreciate those who can. I put this up on the wall of the baby's room because it's so pretty and I really need some wall decorations. It goes just perfectly! Thank you, Judith!!!
I worked on TW's Castle Sampler here and there (see below). I filled in some of the blends in the border, nothing too exciting. I'll take it to the hospital with me, and if I feel like it, I can stitch some easy, non-blend border. Optimistic, I know.
I'm going to stop by the LNS on the way to the hospital tonight and bring some things to get framed. I have an L&L angel for my mom, the birth sampler for the friend, and three petit point cats for myself that I want to get framed. They're having a sale on framing tomorrow, but I should be able to sneak in today.
Baby update:
The doctor checked me this morning, and there's been no change. I go in to the hospital this evening, and they'll apply a gel to my cervix to thin it. Then tomorrow we try induced labor yet again. I don't know how my poor arm will take the IV again, not to mention no food for a long time while they give me glucose or insulin intraveneously. Bleh. I think giving birth normally is bad enough. I can't even have water!