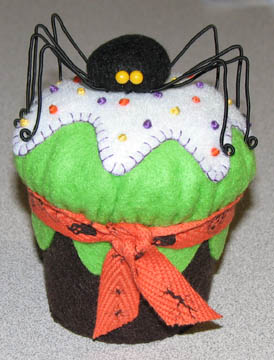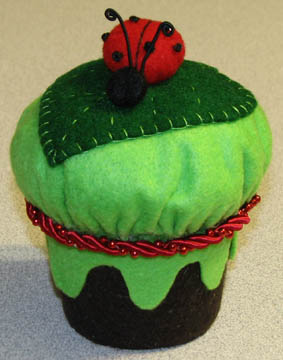 I made the spider pincushion recently from a
DMC pattern
. It was the first time I had used memory thread (basically thick thread with a copper wire inside). I like it! (Matt had to point out that this is not a spider but a harvestman since it doesn't have a separate head and abdomen.) Oh, and I'll be giving away a spider pincushion in October, along with some other goodies.
I adapted the pattern to make the ladybug pincushion for my mom's friend, who's crazy about ladybugs. I think the trickiest part is finding a ribbon or cording to go around the piece. The surface is uneven -- the top is taller than the bottom, so a ribbon with no stretch just kind of hangs there unattractively.
Vacation: We recently went to Galveston and stayed at a nice (but expensive) hotel on the beach for the weekend. We finally found a vacation Logan enjoyed! We went to the Rainforest Cafe. For those of you who have never been, the restaurant is jungle themed and has animatronic animals that go off at set times. The first time the monkeys started moving, Logan clapped his hands over his eyes and refused to remove them. I was very disappointed because I love this kind of thing and hoped he would too. He eventually watched the show and even enjoyed it. Outside, a volcano spit flames and smoke, which was awesome. The food's mediocre and overpriced, but you go there for the show, not the food. We also went to Moody Gardens and saw the aquarium, which Logan actually paid attention to (unlike Sea World the previous year when he was two and a half). We took a paddlewheel ride around the bay; that took too long to hold his attention. He really enjoyed the beach and playing in the sand with his toys, even though he had to wear a jacket because it was cold -- yes, Texas in May. Weird. He didn't want to go in the water, so I carried him and waded into the waves up to mid-thigh. He clung to me like a monkey so he could watch the waves. I wish we could have stayed longer.
My husband the engineer: Matt finished his last class and is now an electrical engineer. He starts his new job tomorrow. I am so proud of him. It's not easy going back to school. I can see why he couldn't manage working 60+ hours a week and going to school. School alone took all of his time. It's nice to have my husband back. Even doing housework together is fun.
Promotion for me: I'm getting a promotion at work and will be a supervisor again. I haven't been a supervisor for about eight years because I'm a full-time telecommuter. Work is going to try to get me an office in Austin, but it's still not the same city as the people I supervise. Challenging but not impossible!