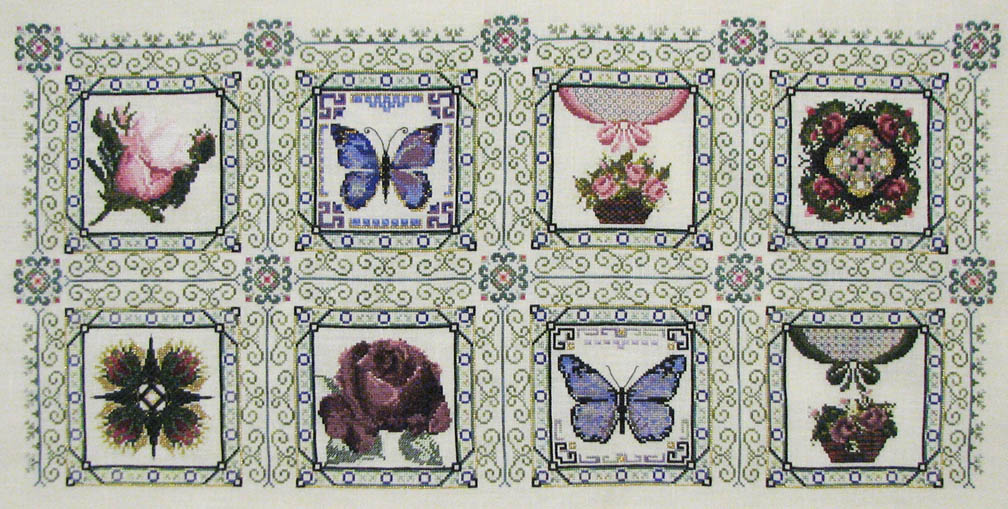 It's hard to believe I haven't worked on this one since 2008. I think the huge size of the piece is what makes it so tiresome to work on. I found some plastic hair clips that might help. Make sure you click on this one to get a bigger image.

So of the three pieces I'm actively working on -- this one, VS's Gingerbread House, and a Halloween piece -- I'm missing one color of floss for each. I can still do some other stitching on the pieces while I wait, at least.

I bought fabric today for a table cloth for my little white table. I'll work on it after my mom gets back from her vacation next week. I'm getting rid of the plant stand, and I'm planning the table cloth and some fabric wall hangings using some frames I already had. I'll post a pic when it's all done.

Thanks for the compliments on the table. It's the one we had in the kitchen of our old house growing up. The thing is a good bit older than me. If it's as old as the other antiques, it would be around 80 years old. (It's got an extra leaf we keep in the garage.) My mom repainted it a while back. It could use a good scrub. I'm leaning toward staying with two chairs so that the tablecloth shows up better and doesn't make the space feel too cramped.