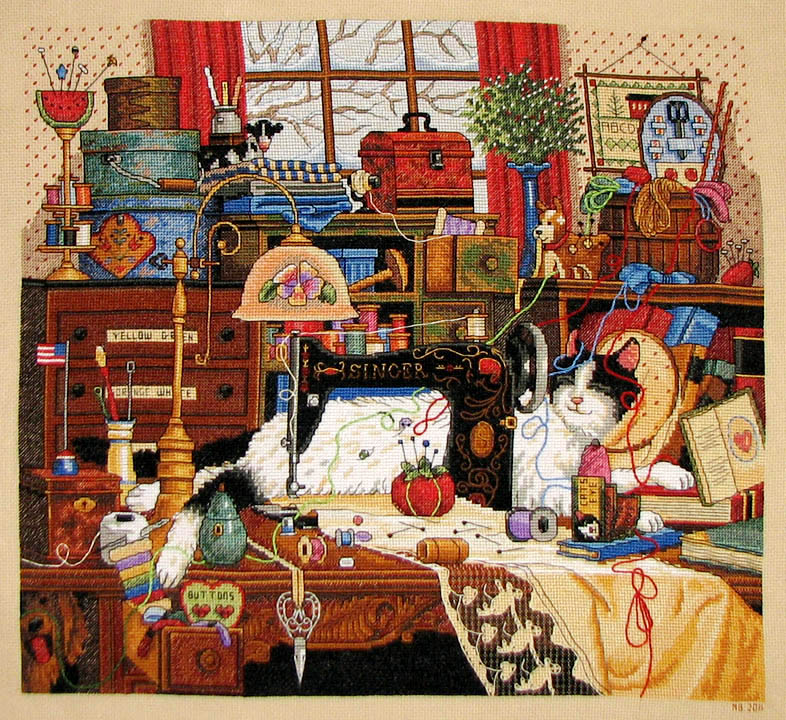 This piece has been the biggest nightmare piece I have ever faced. No Teresa Wentzler piece, no hardanger, no HAED has given me as many problems as this piece. It's a beautiful piece, don't get me wrong. But I had nothing but problems from the minute I started. With a TW, I can just go without reading the directions. I sort of tried it with this piece and didn't notice the different strands and half/full stitches. So I had to rip a lot when I didn't pay close enough attention to the chart. So, for the final time, let me enumerate the things I didn't like about the design of this piece:
Lots of half stitches. Sometimes I forgot which one I was supposed to stitch and did it the wrong way. Ripit!
Differing numbers of strands. Sometimes two strands, sometimes three, sometimes a blend. Again, I had to rip.
Colored chart. Same symbols, different colors -- that can get confusing, especially when you highlight the chart and have to restitch something. (I had to highlight because there was so much detail in the piece.)
Huge chart. The thing is in shreds now with all the folding.
Complicated backstitching. Given the complexity of the piece, it's hard to avoid, but the backstitching was a pain.
Poor cording instructions. I didn't even realize I was supposed to make cording until I glanced at the stitch instructions. I know how to stitch -- I didn't need instructions. Well, apparently I was supposed to intuit that I was supposed to be couching cording, not strands of thread (the diagram gave a thread count, 1, 2, or 3 strands). Again with the ripping.
Knots! Yes, I had to use knots with the cording. Icky patooey.
Aida and non-DMC floss. The standard thing we hate about Dimensions kits. I didn't sub.
Full stitches, not quarter stitches. As we know, this makes for a sloppy-looking piece. As complex as this piece was, I'm pretty glad it didn't use fractionals, to tell you the truth!
I think the key here is that you have to pay attention to every little thing you do with this chart. I stitch to relax, so that's sometimes difficult. But it's done, and I'm not going to buy another Dimensions kit. They probably aren't all this bad, but I'm not taking that chance. Of course, I still have Magnificent Wizard in my WIP pile. I think I'll save that one for later, even though I had wanted to finish it for Matt's graduation in May. I just don't think I can take it right now. So, on to my Victoria Sampler gingerbread house. I can enjoy my stitching again!