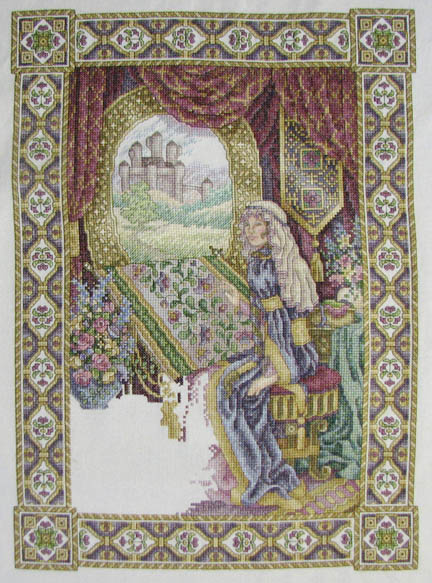 I'm closing in on a finish. I had to take a break to work on a Halloween exchange piece, which I mailed off Friday, but I'm making steady progress on this one. The flowers were a pain, especially the backstitching. Maybe one more pic before the finish! Then I really need to get to work on a piece for Matt, Magnificent Wizard. I'd like to have it done by the time he graduates in May.
But first, I need to work on a fall exchange piece for Hooked on Exchanging. What to stitch, what to stitch....
My boy:
Logan recently celebrated his third birthday. I made him a car cake -- supposed to be Lightning McQueen, but I didn't do a great job of decorating because he wanted to watch...and hit the table and bump my arm and talk to me.... This is why moms shouldn't make their own kids' cakes. :-) I'll try to post a pic at some point. He's an ornery little guy -- apparently he got it from both mom and dad. But he's sure cute!
Reading:
I've gotten hooked on supernatural romance novels thanks to
Missy Ann
. I'm read J.R. Ward's Black Dagger Brotherhood series right now. Is it hot in here?