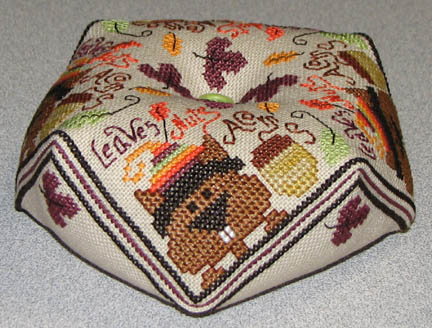 I made these two pieces for the autumn exchange on Hooked on Exchanging for
Becky
. The piece is Autumn Biscornu by Barbara Ana, and the fob takes one of the little squirrels from it. I have
more pics
too. This was a fun stitch and took a little longer than I thought it would!
I have put the last stitches into the Lady of Shalott and will get the backstitching done tomorrow. If I can manage to do the beading while watching Logan (ha!), I may have another finish to show.
We've all been sick these last two weeks, and I'm afraid it's gotten into my chest, despite antibiotics. It may be time to head back to the doctor. Matt's been busy with school and takes the FE tomorrow -- a day-long engineering exam that would look very good on his resume. I hope he passes!
I hope you have a happy Halloween!