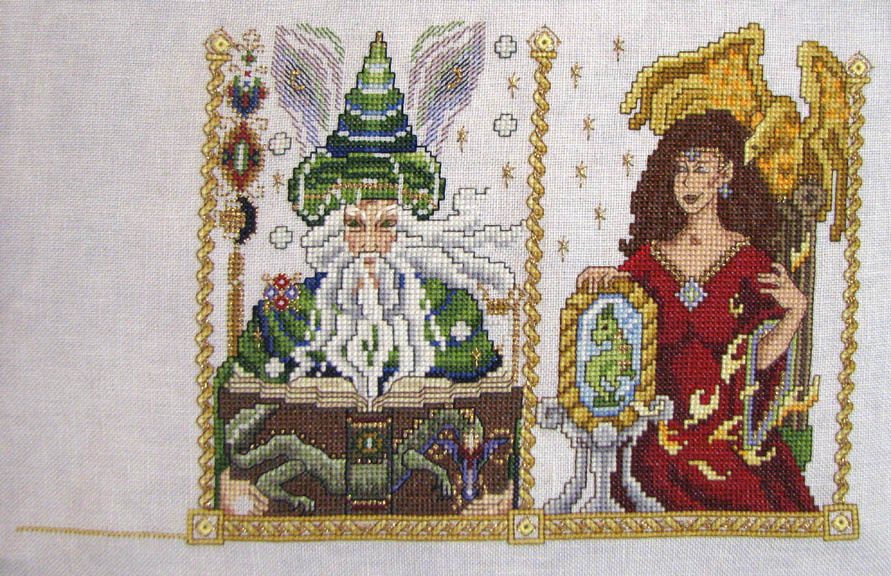 I've made fairly good progress on the piece, but I have a feeling the next panel (the Teresa Wentzler panel) is going to be a little more time consuming. I did hit a snag in that DMC consolidated colors at some point, and two of the numbers used in the chart were the same color. I emailed Teresa Wentzler, and she suggested using a blend, and that worked!
I keep having problems getting the fabric to stay aligned in my Qsnaps. I hope that doesn't cause problems with squaring the piece. It looks off in the photo but isn't quite so bad in person. I may have to go back to my scroll frames for larger pieces.
The health saga:
Thursday daycare called to tell us that a spot on Logan's butt was getting red and that he had a fever. We had to take him to the ER to get the abscess lanced. He did not like that one bit and fought like a wild child. The next day he started throwing up and couldn't stop. He also had a fever and diarrhea (just wonderful since the abscess is in such a bad place). We took him to the ER again, and they gave him something to stop the vomiting, and he gulped down four small bottles of Pedialyte. He was dehydrated by then. He was also exhausted since we didn't get home til 3:00 in the morning. The doctor thinks he has a virus. We belatedly realized this must be the same thing that's going around daycare--so two unrelated illnesses and trips to the ER within two days. Today he's been pretty good, if cranky from lack of sleep, and has managed to keep everything down. I feel so bad for the poor kid...and at the same time I'm hoping I don't get it. With my Lap-Band surgery less than two weeks away, I don't need to get sick. Matt has a touch of it, and my mom came down with strep (though the doctor didn't do a strep test and she's much better today). Jeez!