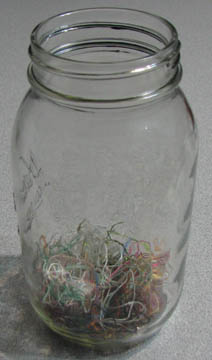 I've been stitching a little but don't have anything to show, other than my ort jar for the
Totally Useless SAL
. I did wind up starting TW's Spring Faerie, but there's not much to show right now.
Sick again: So now that Logan's better, Matt and I got sick. It's rather mild--sore throat, phlegm, etc. However, I did have fever, which prompted a doctor's visit. Logan gets his tubes in his ears in two weeks.


Diet:
I've managed to stick to 2000 calories a day pretty well. The illness has interrupted the exercise, though. As
Jo
pointed out, your calories depend on your current weight. A normal person's maintenance calories are probably 2000, but since I weigh so much, mine are higher. My doctor has a program that will tell you your maintenance calories; he then cuts them by 500 calories for weight loss.
Reading: To review, I've been rereading Mercedes Lackey's books. She's my favorite author, and I've read her stuff consistently since she started writing. I finished rereading the Valdemar, Elemental Masters, and Fairy Tales series, which I thoroughly enjoyed; I couldn't really remember what was going to happen. I just finished the Free Bards series. The one book that she collaborated with Josepha Sherman on is truly wretched--very sappy and overdone. I'm going to skip the Dragon Jousters and Tales of the Five Hundred Kingdoms books since I read them a few years ago. So next I will probably have to venture into her collaboration novels, some of which I haven't read at all. We'll see how I like them.