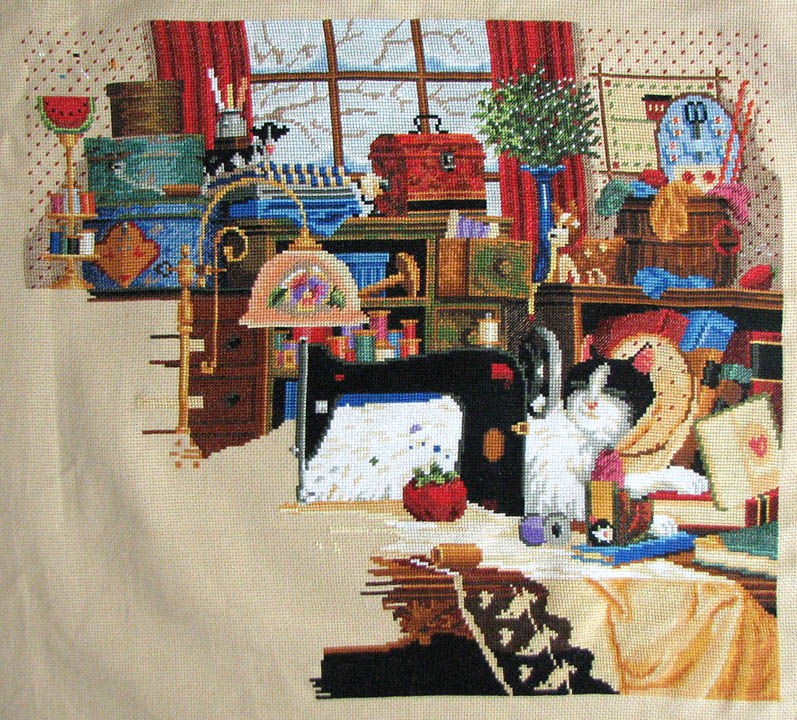 No update in a while because I've been working on my Just Nan exchange piece. I finished it last night, so I may try to mail it today. I had a few frustrations with it, but I think it turned out pretty well. I'd be happy to keep it. ;-)
Maggie worries me that it's a little skewed, probably because of the half stitches. I had to pull them fairly tight because with three strands they don't sit that well. I just hope that the framer can correct it. I'm getting very close to the three-thirds done mark. Another week may do it. I'm going to work on this one until my patience wears out. I saved the backstitching for last because the chart is so complicated that I wanted to be able to concentrate on just that. I usually backstitch TWs as I go because they're always straightforward--no nasty surprises.
Logan and his illnesses:
A few days after the Sea World trip, daycare called me yet again. Logan had a low-grade fever, but I took him to the doctor because he just kept crying and seemed to be in pain. Sure enough, it was an ear infection. He gets tubes next month, which is just not soon enough. He's all better for now. Today is his end-of-the-year event at daycare. We'll see if they can pry him off us. Matt has his last exams for the semester today (yes, on a Saturday), so he won't be coming with us. I think he didn't really want to go anyway.
Diet and exercise again:
Of course, I regained the weight I lost due to the virus. I'm starting the exercise again. The doctor set 2000 calories per day as my goal.