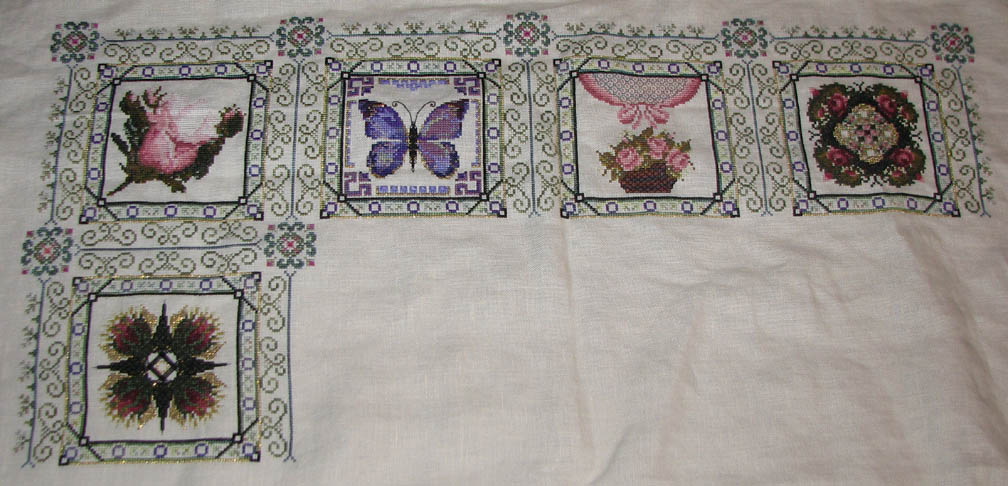 I finally finished the next square. Last week I got a stomach bug and didn't feel like stitching for a few days (hard to believe, I know!). The thing I don't like about this piece is that it's so huge. It's very unwieldy to work on using Qsnaps, but it won't fit on my scroll frame. I have to pin up the excess fabric, and I always hate poking holes in the fabric. Hair clips won't work at all because it's so heavy.
I'll move onto something else for a bit. I need to finish up the last square of my HAED RR piece.
I talked to Becky, and the person who was supposed to send me gifts for the birthday club exchange isn't answering her emails. I just can't believe a stitcher would be so callous as to accept gifts and then not fulfill her commitment to send something herself. If she'd had a problem, she should have let Becky know. I'm disappointed and angry but strangely not surprised. Since my birthday is so late in the year, I had worried that the person would forget me. Seems I was right.
I'm going to mail my Valentine exchange today. I was really pleased with the way the piece turned out, hardanger and all. I may need to restitch it for myself. Pics to come!
By the way, the SBEBB is not closing after all. Becky changed her mind.
Baby:
Logan is managing to hold his head up when he's on his belly, though he really hates belly time. He's smiling quite a lot now and laughing for Matt and the babysitter (not so much for me). Apparently funny noises make him laugh. He's still cranky a lot. Most of the time it's because he's sleepy and just refuses to sleep. The babysitter has better luck with him than Matt and I do. It just gets depressing sometimes. I want my baby to be happy, but it seems he spends so much time unhappy. I keep thinking that if I could do just the right thing, he wouldn't scream.