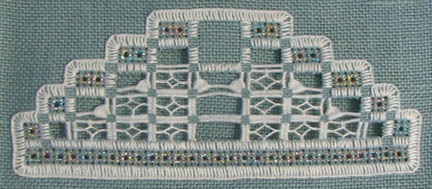 I'm working on Mermaid Song and just finished the hardanger portion. Then I noticed I hadn't done my dove's eyes consistently. Sometimes the thread is over, and sometimes it's under. Sigh. I'm a perfectionist,
but I'm not inclined to redo them. What would you do? I don't think it'll drive me too crazy, but it is annoying.
I decided to redo them. Some of the dove's eyes are ugly. Argh.
I'm not as in love with this piece as I used to be, which is a shame. It's very pretty, but I'm just not feeling it.