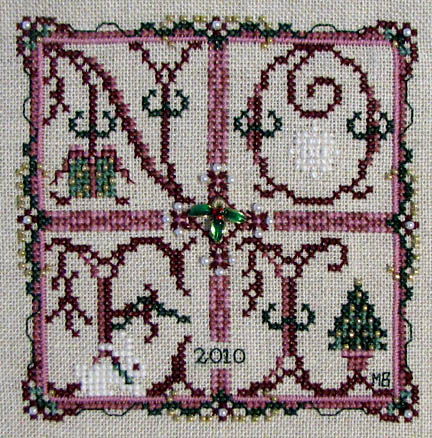 This is a Just Nan piece I finished the other day. I think I started it this year, but I felt like it sat for a good while before I picked it up again. I'm trying to work my way through my WIPs and get them down to a manageable level. Next is Victoria Sampler's Gingerbread Stitching House that I got as a Christmas present last year. I was stitching on the scissor case when I realized I didn't have the accessory pack for it. Now I need to order it and wait. Bleh.
I sent off my Christmas smalls exchange before Thanksgiving, and I haven't heard anything yet. I'm getting rather nervous....
The husband: Matt's finally getting over his month-plus cold/infection/whatever and is finishing up the school year. He's been incredibly busy. I hope next semester (his last) is better and that he finds a job. He won't have a 3.0 average, which a lot of employers ask for in people right out of college, and that's getting him down. He had to withdraw when he was younger and had a few bad grades that are really holding him back. Poor guy. He knows twice as much as the kids in his classes, to judge by their performance on projects together.