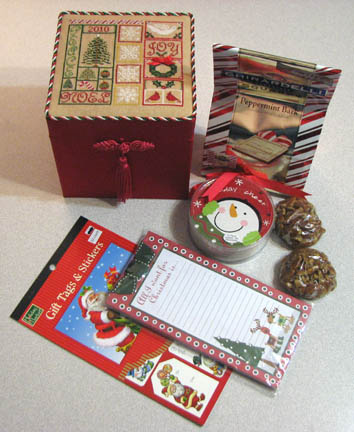 Here is the exchange I sent to
Paula
. I was starting to get worried! The piece is part of Peppermint Twist by Blue Ribbon Designs. You can see
more pics of the box
. The satin-covered box was a find at a grocery-store sale after Valentine's Day this year (I wish I had bought more). I added embellishments to the piece and was really pleased with the way it came out (much more sparkly than in the pictures). I think stitching for exchanges frees me a lot. For my own pieces I like to stick with the designer's vision, even though some of the exchange pieces come out even better. I'm strange that way. I always second-guess my choices, and they're easier to live with if they're going to someone else.
I sent a few extras--coasters, a Christmas list pad, gift tags, and some candy. I love finding little gifts to go along with exchanges.
This was my first exchange to run, and I was both excited and nervous. I'm still waiting to see that all the pieces make it to their destinations safely. Fingers crossed.