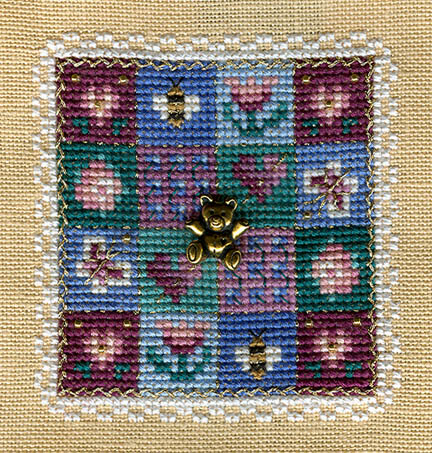 I finished this little Just Nan piece last night. I've been wanting to stitch this one for a while. I have another bear charm somewhere, but of course I can't find it to put it with the chart. I guess that means I need to go stash diving!

I'm just going to keep plowing through the Just Nans. They're usually small and easy, and that's what I need when I'm trying to keep up with a two-year-old.

Logan found his little trike in the garage, the one we were supposed to give him for Christmas but the weather's been so bad. He played with it inside for most of the weekend, saying, "It's my bi-siscal, Mommie!" He can't quite reach the pedals yet, even though the package said it was for two-year-olds (and he's pretty tall). It won't be long til he can, though!