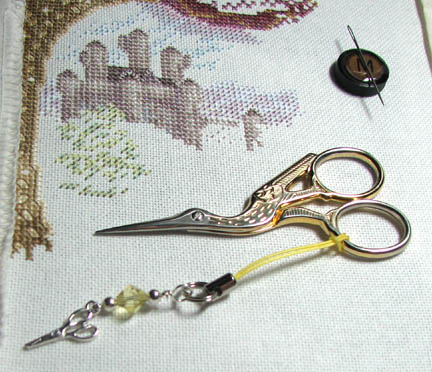 My mom gave me the little fob shown above. I don't usually like fobs on my scissors (though I like to admire them), but this one is cute and doesn't get in the way. Now helping me "never lose my scissors again" as the card promises? Ha!
We had a very good day today, me, Matt, Mom, and Logan. Logan is old enough to understand presents, so he went nuts opening them. He loved the train set my mom gave him and all the Duplo blocks and cars we bought him. (The dinosaurs weren't a hit, at least not yet). He didn't know what to play with first. He haven't given him is trike yet because it's been too cold to go outside with it. This being Texas, we just have to wait a few days for warmer weather.
For Christmas, I received one of my cross stitch pieces framed (my idea) and a car stereo (Matt's idea). My stereo has been out for years, and it's driven me nuts the entire time, especially when I have to take the long drives in to work. I just need to get it installed now! My husband is tricky and clever.
Matt received assorted CDs and DVDs he requested, plus the Maglite he wanted. I bought him two T-shirts he says he likes. It's hard to judge how much he liked them, though. My mom bought him an RC helicopter that seemed to go over well, though it's steering isn't great.
My mom wants something for her sewing machine, so I'm pitching it for that. The one thing I bought that was a surprise didn't work--a key finder. You clap and it's supposed to go off. Not so well actually.
Right now I'm taking steroids and antibiotics in preparation for my sinus surgery Monday. That, of course, is keeping me awake all hours. I catch up on my sleep during the day, which is wreaking havoc with my schedule. But at least the meds are making me feel better when I'm not dead tired.
So an enjoyable Christmas with family and simple fun. I also got to stitch in the living room with my floor stand. Logan played with a few knobs, but when he didn't get anywhere with them, he left it alone. So nice to be able to stitch with my stand again! I've been working on Legends of the Spellcasters. I figured that since I had a break from work until January 4 and was having surgery next week, I deserved a new start. I'm also participating in the stitch-along on the TW bulletin board--just getting a head start.
And lastly, I had one of my best friends from school write me on Facebook. She was my best friend from kindergarten through junior high. We had a falling out and then never talked again. It always made me so sad and resentful thinking about it. I thought I would reject her friend request if she ever sent me one. But when she did, she apologized, and that released the flood in me. I never thought it would be such a relief to hear that. She and I will never be best friends again, but that's just a little more resentment I don't have to hold onto. Yes, I'm stubborn, and it's hard for me to give up on old wounds.
I hope you all had a good day too!