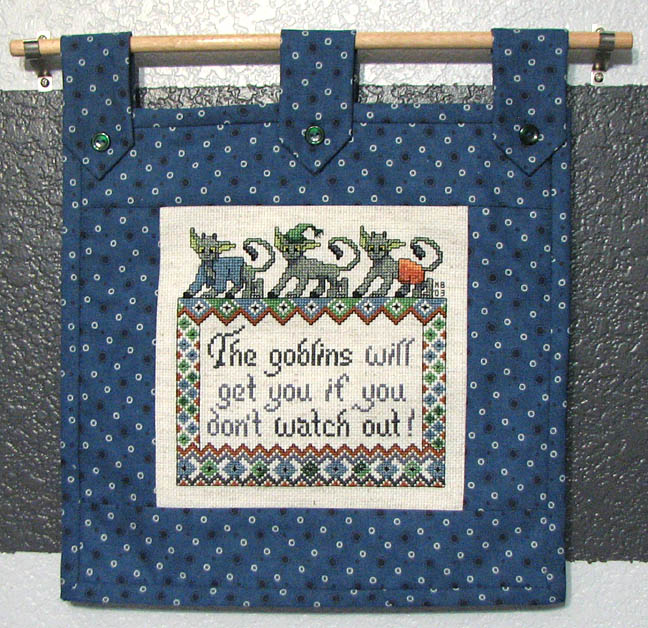 I finished the stitching of Goblins by Patricia Andrle in 2003 and always planned to get it framed. But now that I'm rethinking what pieces to get framed (because of the cost and lack of wall space), I decided to finish some of my smaller pieces as wall hangings and such. This piece I did all myself, with only a little consultation with my mother, the expert seamstress. To some this may be easy sewing, but to me it's quite an accomplishment since I've never been much for sewing. It's growing on me. I've even thought about making a quilt. Maybe someday.
Matt hung this for me in our office. He got to decide on the paint job in this one room. It's light grey with a darker grey stripe around the room. It looks pretty decent, in case you were wondering.
I've been working on Lady of Shalott and plan to take a progress picture maybe tomorrow.
Sinus surgery:
I go in for sinus surgery next Monday. I haven't gotten too scared yet. What worries me right now is not eating until after the surgery. I tend to get nauseous and have stomach pains when I don't eat. But then I'm sure I'll have worse pains after the surgery to think about.
Right now we're dealing with getting ready for Christmas while we're all sick. We have the crackling lungs, and Logan at least has had to take breathing treatments. His breathing is sounding a lot better now, though. Getting the boy to sit still with a mask over his face has been challenging. Bribes of candy work wonders, but it's probably not the best thing for him.
Incidentally, I had an allergy test and am officially not allergic to anything. I had very mild reactions to cats and timothy (not that I've ever noticed), but they weren't bad enough to qualify me as allergic. That's pretty surprising because I thought I'd be allergic to
something
. Awesome.
End of the semester:
Matt finished another semester, and that leaves only three to go (plus a summer session). He passed all his classes, which is a relief since some classes were in question. We're getting closer to that goal of his getting an electrical engineering degree and a good job! I can't wait!