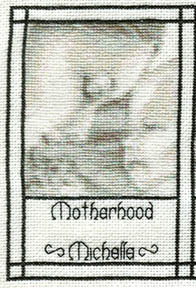 I finished my square for Tash's round robin. It's a section of HAED's Motherhood by Selena Fenech. I figured this one was a good one for me since I'm preggers. :-)
I'll move onto The Awakening next. It shouldn't take long to finish the page since it's mostly done. It's the lady's body, so I've been looking forward to finishing this section for a while. She looks good, if I do say so myself.
While I'm not turbo stitching like I used to, I am getting some stitching done. I'm having some sciatica, so I can't stitch for hours on end. Drat.