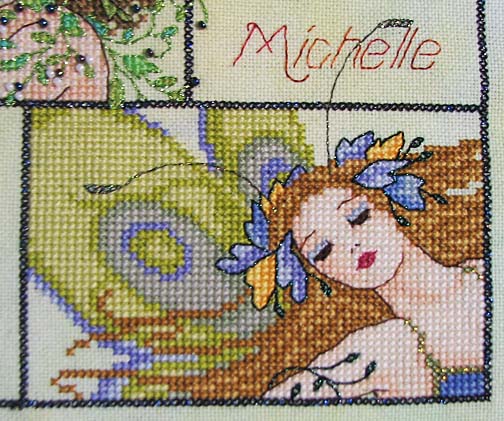 I haven't posted in a while! My hobbies wax and wane, and lately it's been playing computer games, first Star Wars: The Old Republic and then Diablo III. I'll get back to cross stitching and reading, I'm sure.
In the mean time, here is a section of Butterfly Fairy I did for Debbie's piece for the Joan Elliott round robin.
I do have sad news: Ginger's in Austin is closing. Her landlord raised the rent higher than she could afford, and she has to close shop. I am devastated. Ginger's has been around since I started stitching and has been my haven for cross stitching. I will miss being able to browse and find exciting new things to stitch. She also won't be having the stitching retreats any more. There's nothing like getting together with your kind of people and talking about your passion. This makes me so very sad. Ordering materials online just isn't the same.