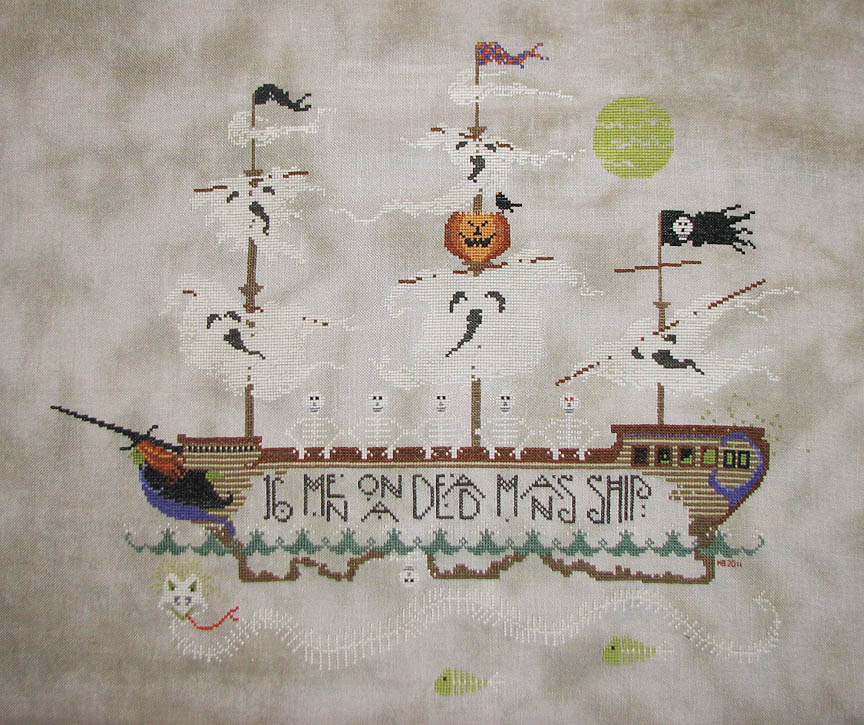 This year I've devoted myself to finishing old, unloved WIPs, and while I've made significant progress, I also haven't enjoyed my stitching as much (more on that when I give my year-end wrap-up). My problem with this piece was definitely the fabric. First, I didn't get the 40 count recommended. I just assumed I knew what I was doing (big mistake) and got 28 count. That made the piece
huge
, and it could have been so much cuter on a higher count. That's not the deal breaker; the fact that the fabric is Wichelt is. I hate how loosely woven the fabric is--see-through and so easy to deform. I know some people like Wichelt, but it's definitely not for me. Add in my horrible Gripit stand, which doesn't handle big scroll frames well because I have to use a clamp, and you have a piece I hated to stitch on, even though it's such a cute piece (in a creepy way). I'm going to do my best not to make this mistake again.
So if you've seen a negative cast to my posts this year, you might be able to understand why. I'm going to try to work on more pieces I love this year, listen to what gets me excited to stitch. Sometimes my dutiful self gets in the way of that, and I'm going to try to lock her up for a while. :)
I hope you had a great holiday. We've been having a nice, quiet few days off at home. Matt bought me Victoria Sampler's Mermaid Song, and my mom gave me enough Christmas money to buy a new K's Creations floor stand. Yay!