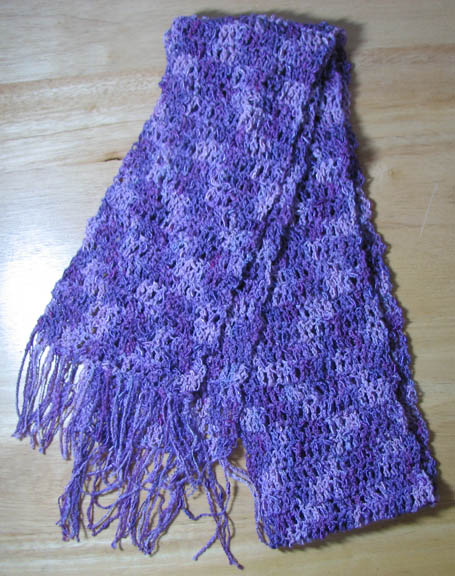 When I was a teenager, I crocheted my dad a black scarf. He was a policeman, and it was about the only color he could wear without looking odd. :-) Being in the South, we don't really need to wear scarves (unless you're a policeman who has to go out in every kind of weather), so I've never worn one. I think I'll wear this one. I love purple, and the yarn feels great, soft and nubby.
The yarn is one of the items I bought at the Houston Quilt Show. Jo at Dinky Dyes had one skein of purple yarn, so I had to make the scarf skinny to get it long enough.
Speaking of the show, here's what I bought:
a skein of Dinky Dyes yarn
a fat quarter of batik fabric (for an exchange)
6 large squares of Irish wool (no idea what I'm going to use them for)
a star thread keeper (for an exchange)
a measuring tape in a small tin (for an exchange)
a marking pen that fades after ironing (for an exchange)
a small container of hand cream (for an exchange)
a small purse with a horse on it
a Drawn Thread chart, Almost Halloween
a knotwork chart, Eeek!
an Erica Michaels silk gauze chart, Second Spring
I went with my mom and friend
Amanda
and had a great time. I'm inspired to quilt now, so my mom and I are going to work on a quilt for Logan. It has cars, buses, and trucks on it.
This past weekend was Camp Stichalot, put on by Ginger's. I was shy at first but opened up as the weekend progressed. I had a great time--more so for the people than the stitching because I didn't bring anything I was anxious to stitch. Silly me. The Austin Comic Con was also this past weekend, which is why I only got to spend Thursday through Saturday noon at the retreat. I'm hoping to go to the retreat in March too. The
Compass Centre
is really nice. Great food and nice facilities.