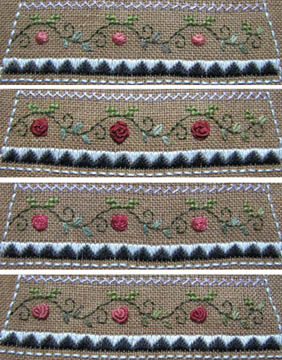 I've been diligently stitching on my Gingerbread Tree Etui, a cyberclass from the Victoria Sampler. I love seeing Thea and watching her complete the stitches. Unfortunately I had to watch them after the live class since we went to the Hyatt on the first weekend and Sea World on the second weekend. Still, it's been a lot of fun, and I've finished stitching the four tree sides. Here you can see the roses on the four sides, each made with a different kind of stitch. I still need to bead the tree and stitch the scissor pocket before I can start assembling it. There's also a little pincushion I need to stitch.
I'm so looking forward to having this one sit next to my Gingerbread House. My chart for the church came in today too! They use a black linen for the roof, but I'm thinking of switching that to a dark brown.
Oh hey, and I think I finally found the magic button on my camera to make my closeups actually look clear!