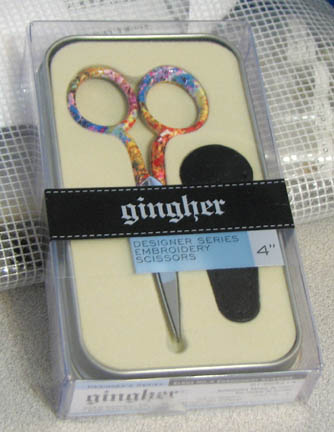 I went to Ginger's in Austin today. I found a pair of Gingher Elena scissors, which I've been looking for for a a while. I'm so excited about this! If you need a pair, you can call Monday to get one: (512) 454-5344. She had three left. Let me know if you plan buy to one. If no one's interested, I'll post to the bulletin boards to get them sold.
So the rest of the haul... I was there ostensibly to pick up the two-ply mat board I need to finish my Victoria Sampler gingerbread house. I also picked up some beige Jobelan for a fall band sampler (sign up for the band sampler round robin
here
by June 15), the
Trilogy's Autumn Line Up
chart to go with the round robin for inspiration, and two
JBW Designs Christmas ornament
charts. Now I'm not much into stitching Christmas ornaments, but Ginger's had a JBW Designs trunk show, and the ornaments stitched over one are just adorable. I couldn't pass them up.
Matt and Logan played with the toys Ginger's has brilliantly put aside for that purpose, and I had myself a blast. I had so much fun knowing that I could buy what I wanted within reason. We still have tons of debt, but there's a light at the end of the tunnel. It makes a world of difference. Now to not add too much to that debt...