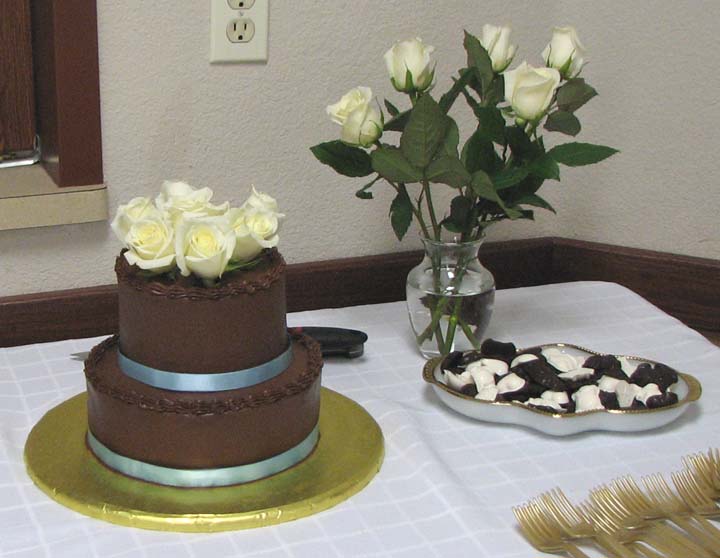 I made this chocolate cake for Matt's aunt and uncle's 50th wedding anniversary party. I was a nervous wreck, but the satisfaction from a job well done is so worth it. The cake is a moist chocolate liquer cake with dark chocolate frosting. I got so many compliments on it. I made two test cakes and test frosting during the week to make sure I got it right. Even the decorating came out well (though I see flaws, of course). This was the groom's cake, and another relative made the main cake. Poor thing--her frosting didn't set, and the cake looked like it had been out in the sun for a few hours. That was my nightmare, so I completely sympathized.
Matt has already requested this cake for his birthday. :-)
Oh, and in case you're wondering, the flowers are real but are in picks so they don't contaminate the cake.
Stitching:
I've been remiss in my blogging, but I haven't had much stitching progress lately (computer game addiction is to blame). I have been working on Lady of Shalott, so I'll have a new pic soon.
Lufy:
We had some bad news. Our dog Lufy started limping, and after taking her to the vet, we found out she has bone cancer. She's about 11 years old, and the vet said amputation would only slow it. We've decided not to since she already has trouble with her hips, and losing a leg would make that worse. With it being aggressive bone cancer, it's probably already spread. I would spend whatever it took to make her better, but there is no making her better at this point. We're giving her meds to help with the pain, and once that doesn't work anymore, we're going to have to let her go. Matt and I are pretty torn up about it. She's the sweetest dog, and we love her dearly. We're going to miss our girl. She spends her days with me while I work at home, and it just won't be the same without her.